Newsletters · Essay: A Father-Son Pairing
A Father-Son Pairing
BY RICK SHORT 
My wife, Wendy, and I are newbies to bonsai, having begun the journey in the summer of 2015. Like most people, we were always vaguely aware of the art, but knew almost nothing about it. Our first real exposure came when we met Tom Martin. Knowing that we are car people, he encouraged us to view a Mohawk Valley Bonsai Club exhibition which was held concurrently with the annual Munson Williams Proctor Arts Institute car show. We thought it was an odd combination, highly-detailed classic cars and a centuries-old art form. But, after we started thinking of them as highly-detailed "classic trees," we made the connection.
The Mohawk Valley Bonsai Club exposition was fascinating and inspirational. The trees, and the way they were all displayed, really moved us. We had no idea so many talented artists lived right here in Central New York. Tom had set the hook, now he had to reel us in.
We went a year without taking any action, but now Tom had us on the line. He connected with us via Facebook and, from time to time, began sharing very interesting bonsai photos. Wendy and I often pointed out various trees to each other, and started discussing the hobby. During the winter we would occasionally bump into Tom at a hockey game in The AUD. Looking back, I'm not sure those meetings were coincidences. At the end of that first year, we, once again, made a point to visit the club's exhibition at The Munstitute's car show. This time we made a point to talk with a few club members and to linger quite a bit longer. After a lot of questions we went home talking about bonsai.
Then came another year of a deepening connection with the fascinating world of bonsai, all via Tom's Facebook site. He was reeling us in quickly by then. By the summer of 2017 we were anticipating the annual bonsai show. In the weeks running up to the event we chatted with Tom to be sure we would be getting as much out of the event as possible. He shared that there would be a demonstration/tutorial this time. And, once again, he made a point to show us everything he could and to answer all our questions. By then, Wendy and I were fascinated. We attended the show as much to see the trees as the cars. And, as we departed, we both knew that Tom had caught us! In the ensuing days we kept affirming our commitment to starting the journey.
Soon after, we attended our first MVBC meeting, a demo session at D'Alessandro's Nursery & Landscaping. We were welcomed very warmly by everyone and immediately felt at home. We learned a lot and started seeing how we might be able to fit into this world.
We started reading voraciously, learning as much as we could. Tom connected us to Pauline Muth, owner of pfm bonsai and world-class bonsai expert. Wendy and I enrolled in Pauline's introductory ABS course, completing it this November. She taught us a ton, and inspired us to do more research on our own.

One of the most exciting things to come of all of this is my new larch project. Tom stunned me over this past summer with his larch forest display. Not only was it beautiful, but it reminded me of my boyhood, spending summers in the Adirondacks with my grandparents. They lived between Tupper Lake and Long Lake; Nana was a nurse and Grandpa was the manager of a private forest preserve. He spent his entire life in the woods and was a self-taught silvaculturist. Tom's larches reminded me of a poignant moment that took place between my grandfather and me when I was a young lad. While walking together I made a smart-alec comment about a stand of trees that looked like pines but that was thinning, fading, and looking kind of nasty. Without missing a beat my grandfather rose to the defense of those larches, sharing that they were unique and held a special place in the eco-system. He concluded by telling me that he really appreciated them. I walked the rest of the way home quiet and feeling gently put in my place. Funny, but I have never forgotten that lesson.
This autumn, in one of our final classes at Pauline's, I asked her to give me yet another tour of her bonsai nursery. This time, she and I both spent some extra time amongst her larches, all collected in a bog in Maine. As she talked me from one tree to another I was reminded of the conversation that had occurred decades earlier, between a grandfather and his grandson. Then, something hit us both at the same time: one of the first trees she showed me looked a lot like the last tree she was holding. Our minds played the match game as we backed up to locate the mate. Quickly we had two congruently-shaped larches, one about 24" tall and the other about 18". So perfectly matched were they that it was obvious they belonged together. Maybe it was her keen artistic eye, maybe it was her inner sales woman, or maybe it was something much larger, but Pauline said, "These are a perfect 'father and son' match." In awe, I quietly replied, "Yeah…"
We carried the trees into her studio and talked over what this pairing had to offer. I couldn't begin to explain it to her. She gave me instructions, I paid, and Wendy and I drove home with, by far, our most ambitious and coolest bonsai project of our fledgling careers.
Here are the before and after shots (is there ever a true "after" shot?) taken as Pauline guided the initial pruning in her studio, and after I got them home, wired the trees, and put them back outdoors in their snowy glory. I have since returned to Pauline to have her shape both trees a small bit and will return at the proper moment in the spring for her assistance with combining both trees into one pot, paired like they were always meant to be. I have no way to convey to her just how magical this entire project is for me.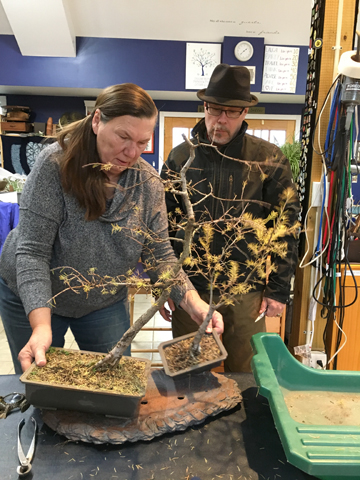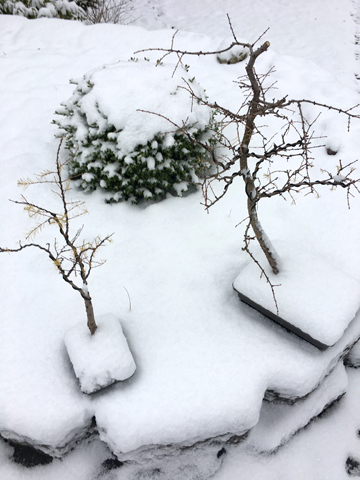 Wendy and I really appreciate bonsai because it allows us to practice the art together, each in our own personal way, but side by side. We have always been best friends (we met in first grade and began dating in college) and are always seeking activities that allow us to enjoy them together. Bonsai is perfect for us. For example, this weekend I put a lot of work into wiring some trees (something she isn't too invested in) while she spent time with each of our 15 trees, being sure they were watered and looking into a possible purchase of a used greenhouse. Recently, together we built two turntables from materials we purchased at Jay-K; we're a good team.
The best part of this brief and rewarding journey is the people. We often comment on how the Mohawk Valley Bonsai Club members felt like close friends from the minute we met them, and how everyone is so supportive and generous.
Looking forward, we are excited about the 2018 Mohawk Valley Bonsai Club exhibition at that car show. Looking back, we both wish that we had jumped into Tom's boat when he first connected with us, and not made him work so hard at getting us into this truly pleasurable hobby.