Newsletters · July 2018
Roots, Shoots & Tips
MVBC Celebrating 13 Years!

This year our annual Picnic & Auction is extra special!
Please join us Saturday, July 14 from 1– 3 p.m.
hosted by our friends at D'Alessandro's Nursery

The nursery is located at 1346 Higby Road, up the long beautiful hill just east of Albany Street (about 10 minutes from our club meeting site).
Please bring a dish to share for our picnic and bonsai- or garden-related item(s) to donate to the auction. Auction items could include: pre-bonsai material, pots, tools, soil or books. If anyone requests that a specific item be raffled we can do that also.
Please bring some cash to spend, small bills if possible; checks will be accepted (no cards). This event is one of our two main fund-raisers for the year and it helps us cover expenses such as facility rent, library purchases, association membership costs and our annual speaker fees.
Of course we can't pass up the opportunity to browse the nursery for treasures, so we will also discuss how to select nursery stock for bonsai.
---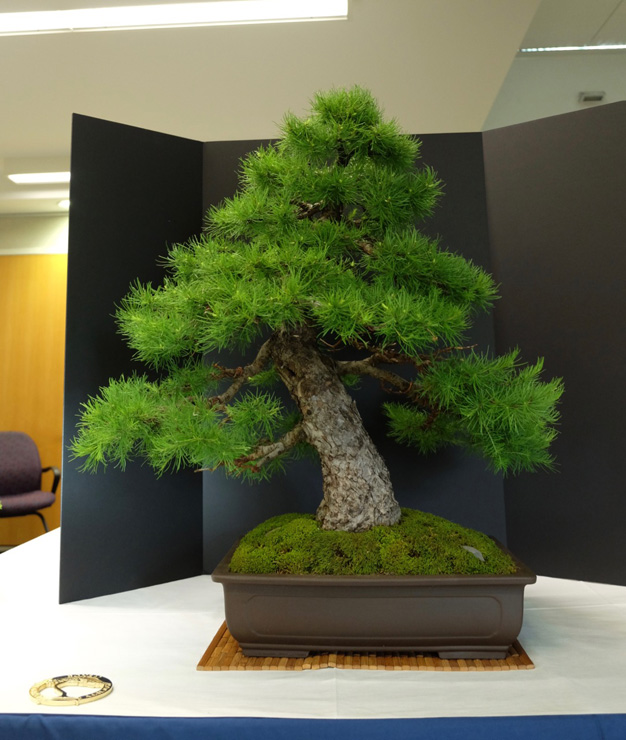 Great news from our Bonsai Exhibition: During the show at MWPAI's Summer Festival, Pauline Muth, a member of the American Bonsai Society's board of directors, presented a gold medal for excellence on behalf of the Society to Carl Hoffner for his very special "specimen" larch bonsai. This distinction is reserved for only a small number of trees in the U.S, and it is real honor for Carl to receive this honor. Our club feels honored that Carl is one of our own!
We are also very excited about the 24 people who signed up for our upcoming Bonsai 101 meeting in August! It's a joy to see our art inspiring others!
Our presentations on bonsai basics were given by Cathy Brown, and assisted by Rick Short and Deverie Hunt.  We displayed and explained several steps in development of a larch bonsai, as well as the materials and tools used.
Our total attendance for the weekend was 550 people! Thank you to our volunteers who helped to create a great exhibition!
If you haven't checked the photo's out yet — go to our exhibition photo page >> 
---
Summer Watering This past week has been HOT! Our trees need extra attention to watering on days like these. Bonsai soil drains very well and requires that we water more often. Remember dark colored pots heat up quickly and shallow pots have less root protection. Do not let them get too dry. You can also check out a great video on watering>>  which was recently featured on our Facebook page >>.
---
Treasurer's Report
Income: $35 Club dues & donations
Expenses:
$26.46 Gift for Carl; loan of two trees for MWPAI Kimono! reception
$135 Club wire
$24.99 Bookmarks for the show
Current club balance: $1,337.42
---
Reminder - Please return all borrowed club library books and magazines and sign out new ones to enjoy!